CNC Turning
Lathe Turning Service
We produce rods, pulleys and hubs. Our CNC machinists quickly set up computer controlled lathes to accurately produce your piece. CNC turning is often combined with milling to provide even greater detailed pieces. Regent Tool's lathe chuck sizes range from 8" to 24". Check out our CNC Multi-Tasking.
About Regent's CNC Turning
Regent Tool has various sizes of CNC Turning and CNC Multi-Tasking turning/milling centers to meet your quality, delivery and price requirements.
Our CNC Lathe lineup ranges from 8" chucks to 24" chucks as well as bar feed capability to meet virtually all of your machining needs.
Doosan MX 2500 ST with 2 – 12″ Chucks, live tooling & A 40ATC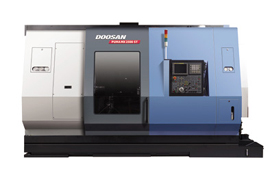 By integrating turning and milling functions into one superior machine, our CNC Multi-Tasking technology gives you greater flexibility in machining everything from simple to complex parts. With multiple axis, simultaneous CNC machining is completed in one setup on one CNC machine; enabling us to manufacture high-quality parts in a fraction of the time it would take a conventional CNC machine to complete the same tasks. Eliminating setups on other machines increases quality and reduces cycle time and the risk of damage due to handling of parts.
Watch our video to learn more about CNC Multi-Task machining.
Doosan Puma 480 CNC Turning Center
With 60hp spindle, 24" chuck, 40" turning length and a 6.5" spindle bore this CNC Turning Center will make quick work of your turning requirements.
Daewoo Puma 230 with a SMW bar feeder
Daewoo Puma 230 with a SMW bar feeder
With a 10" chuck, 3" spindle bore and parts catcher, we can CNC machine smaller parts right from bar stock to reduce cycle times and material handling – so that you receive a quality product faster.
Contact us today to learn more about our CNC Turning and Equipment capabilities.
Mori Seiki NL3000Y with live tooling
The NL series lathe has high rigidity & is a high precision machine.  Our NL 3000 has a 15″ chuck & 2000mm between centers. It has Y-axis travel of 60mm which allows us to side mill & drill off center of the workpiece. With the ability to turn & mill in the same machine, it reduces setups & we can machine your products to a higher standard.
Back